Phil Collins- No Jacket Required
Whenever I think of Phil Collins and his third blockbuster solo  album No Jacket Required, funnily it triggers a flashback regarding another superstar effort. It was late January 1985 and Atlantic Records had invited me to London (along with the late WNEW-FM legend Scott Muni and WBCN Boston's Oedipus ) to interview Jimmy Page and Paul Rodgers as The Firm, broadcasting back to millions listening in America live from the famed Abbey Road Studios. As I prepared the interview that morning in my London hotel room, I flipped on the tabletop radio. While the government-run BBC had been the sole legal radio outlet in the entire United Kingdom , the daring brilliance and glaring inconsistencies of the pirate radio stations had informed the UK rock fan for decades, but recently British law had changed to allow legal non-governmental radio station ownership for the very first time.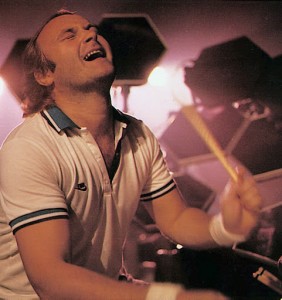 London's Capital Radio FM in January 1985 combined the variety and spirit of the pirates with the slick energetic presentation of the best of American Top 40 radio in its prime (think 1970 WABC/New York, 1972 WLS and WCFL/Chicago, 1973 KHJ/Los Angeles). That day Capital Radio had just received an advance copy of what would be Phil Collins third solo album, No Jacket Required.  Until this point, Collins was best known as the drummer who surprised everyone by more than capably replacing band mate Peter Gabriel as the lead singer for Genesis, but Capitol Radio's London deejays seemed to sense that we were about to witness that rarest of astronomical and cultural phenomena : the birth of a star entering supernova. Capital Radio's deejays were breathlessly promising to play a different song from No Jacket Required  every hour, and the excitement was palpable!
( Phil Collins (left) onstage at Live Aid benefit concert in Philadelphia July 1985 )
After loving "Sussudio","Only You Know and I Know", the hypnotic"Long Long Way to Go","Don't Lose My number","Inside Out", Collins' second #1 from this collection"One More Night", and the concert sing-along"Take Me Home" (all of which I heard featured over the following two days in London), I began secretly to plan how upon my return I would utilize the strength and depth of Phil Collins  No Jacket Required  to upgrade my Dallas / Ft.Worth radio station Q102 to become the region's rock leader. And that's exactly what happened for the next decade.  Meanwhile Collins would go on to sell 25,000,000 copies of No Jacket Required  worldwide ( half of those just in the US ) and win multiple Grammy Awards including "Album of the Year". –Redbeard
https://www.inthestudio.net/wp-content/uploads/2020/02/PHILCO-Jacket-orange-IMG_0549-e1611857318550.jpg
437
640
Red Beard
https://www.inthestudio.net/wp-content/uploads/2017/01/ITS-COLOR-white-studio.png
Red Beard
2020-02-02 20:00:51
2022-11-20 16:04:11
Phil Collins- No Jacket Required