The Babys- Broken Heart 45th Anniversary- John Waite, Jonathan Cain
This is how the #13 hit "Isn't It Time?" by British band The Babys was introduced to America in late 1977, coming from their second album in barely six months, Broken Heart: driving home late at night during Autumn 1977 in a 1965 Ford Fairlane with an AM-only radio, a song came on that opened with a melancholy naked piano melody. Then a lush orchestra joined in as a male voice with just a hint of an English accent sang,"Falling in love was the last thing I had on my mind…". Then a solo trumpet repeated the melody the singer had just sung, but mariachi-like. Then these female backup singers come in prominently on the bridge to this huge hooky chorus. But wait: the lead singer switched places with the girl singers, who then take over belting out the chorus. What??!
  The band originally consisted of Michael Corby on keyboards, Wally Stocker on guitar, Tony Brock on drums, and John Waite on bass guitar and vocals. The song "Give Me Your Love" on
Broken Heart
really shows their influences, particularly guitarist Wally Stocker, as the song could have fit easily on Free's
Heartbreaker
finale five years earlier.
In January 1979, their third album, Head First, garnered considerable rock radio airplay for The Babys, peaking at #22 sales and another lucky #13 single,"Every Time I Think of You", but with Corby departing, the three remaining band members recruited Americans Jonathan Cain and Ricky Phillips to tour in support of red hot Journey. Cain and Phillips actually wrote and played on the 1980 Union Jacks  album which delivered "Back on My Feet Again" and the infectious "Midnight Rendezvous", and the Journey/ Babys double bill that year is recalled as a legendary tour.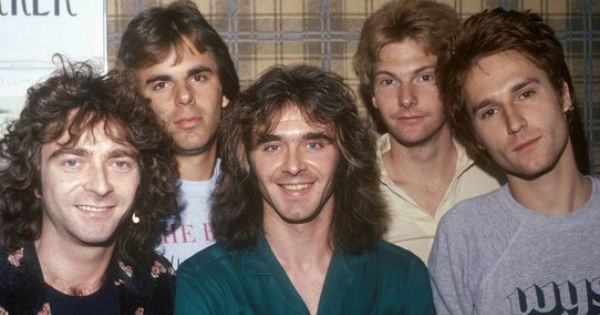 ( Union Jacks  front l-r Tony Brock, Wally Stocker, John Waite; back Jonathan Cain & Ricky Phillips)
Brock and Stocker gave birth to a new line up of The Babys, releasing I'll Have Some of That!  in 2015, but for this retrospective John Waite and Jonathan Cain put on their big boy pants for a frank conversation about The Babys, a promising band which had some unfortunate breaks which ultimately stunted their growth the first time around. –Redbeard 
https://www.inthestudio.net/wp-content/uploads/2017/02/BABYS-Broken-Heart-1977-R.jpg
480
473
Red Beard
https://www.inthestudio.net/wp-content/uploads/2017/01/ITS-COLOR-white-studio.png
Red Beard
2022-12-11 18:02:04
2023-02-20 12:55:44
The Babys- Broken Heart 45th Anniversary- John Waite, Jonathan Cain