Faces- A Nod is as Good as a Wink- Rod Stewart, Ron Wood
"That brings us to the The Faces, the famous drinking group," chuckles Rod Stewart in this rare classic rock interview."That was the problem with The Faces: you could never get us out of the pub!" That may have been the only problem, then, because on any given night between 1970 and 1975, the London-based quintet of Stewart and guitarist Ron Wood (both ex-Jeff Beck Group), and the three Small Faces left after Steve Marriott split to form Humble Pie ( bass player Ronnie Lane, pianist Ian McLagan, and drummer Kenney Jones) could have been the best rock'n'roll band on Earth.
Those first two Faces albums were critical faves but received scant U.S. airplay, but that all changed in a hurry in November 1971 with
A Nod is As Good As a Wink
, containing the international hit "Stay With Me", followed by March 1973's
Ooh la La
, which sadly turned out to be their swan song.  Seeing The Faces on their Spring 1973 American tour was easily one of my Top Five live shows I ever witnessed. So why did it all end?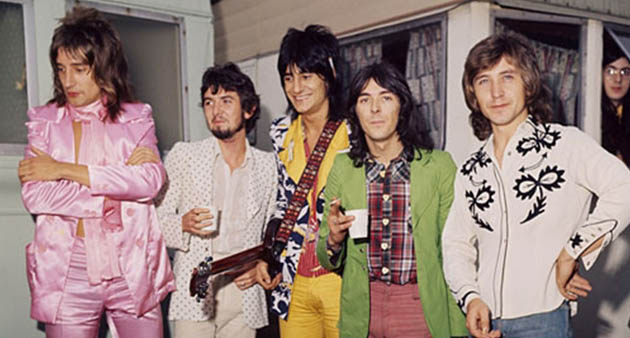 ( L-R Rod Stewart, Ronnie Lane, Ron Wood, Ian McLagan, Kenney Jones )
Apparently, the old adage, "Be careful what you wish for because it might come true" suddenly applied to the five formerly penniless musicians when Rod Stewart's Cinderella solo career exploded simultaneously with the Faces hit "Stay with Me", effectivly taking the band from Long Player to long faces, as collectively they "faced" a foreign foe: fame. Rod Stewart, Ron Wood,  & archival comments from the late  Ian McLagan (Ronnie Lane passed as well) face the music In the Studio for their most popular album, A Nod is as Good as a Wink. –Redbeard 

https://www.inthestudio.net/wp-content/uploads/2021/11/FACES-a-nod-is-as-good-as-a-wink-to-a-blind-horse-e1636576719628.jpg
525
640
Red Beard
https://www.inthestudio.net/wp-content/uploads/2017/01/ITS-COLOR-white-studio.png
Red Beard
2021-11-14 17:49:10
2023-07-09 14:04:04
Faces- A Nod is as Good as a Wink- Rod Stewart, Ron Wood