Without fanfare (and without more than regional radio airplay, I'm afraid), the self-titled Ted Nugent album came out in 1975 and proceeded to sell over a million copies, purely on the strength of his gonzo concerts. Then Ted Nugent's Free for All  changed the national  radio reception and overamped its way to #24 on the Billboard album chart, becoming his second consecutive multi-platinum seller. And barely a year later, Nugent would take Cat Scratch Fever's instant success and transform it through the remainder of 1977 into the top-grossing rock concert act that year. But it hadn't always been that way for Ted Nugent. Far from it.
"Stranglehold" would get tons of listener requests and some of us night deejays would risk getting called on the carpet  by station management by playing it, but I swear Nugent remembered every one of us when his star rose soon after. "Dog Eat Dog" certainly has its inspiration in the Detroit region music scene Ted found circa 1968-72, and we still reminisce about him playing the tiny Findlay (Ohio) College gym with the Amboy Dukes in Fall 1971 to an audience of about 100. Or the following late Summer 1972, playing in a cornfield outside North Baltimore Ohio, where someone in that crowd had tossed a tomato at Ted's head during a guitar solo. Even though blinded by the glaring stage lights, Nugent miraculously caught the incoming produce grenade one-handed while never missing a note on the guitar neck with his left. When the song ended, Ted stopped the show, calling out the cowardly perpetrator in the inky blackness of the crowd while holding the tomato in his fist and shouting," Is this what you wanted to see?" With that, Nugent suddenly smashed the tomato on his face, then launched into a blistering song while the audience absolutely erupted!
Back then Tyrannosaurus Ted was an interviewer's dream: colorful, quotable, always "on", and hilariously entertaining as you will clearly hear in my classic rock interview covering "Hey Baby","Stranglehold","Free for All","Dog Eat Dog","Cat Scratch Fever", and "Workin' Hard, Playin' Hard".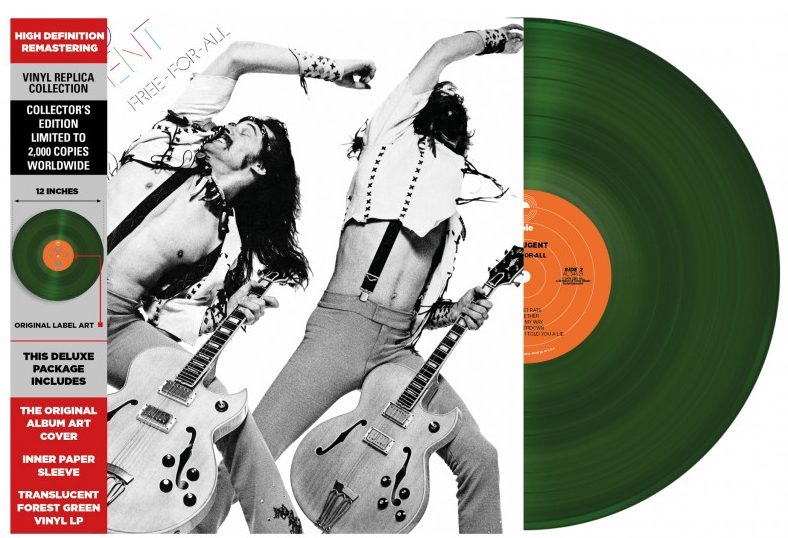 There is no denying that in the past Ted's Motor City motormouth has gotten his rump in hot water with the Secret Service, and his celebrity was unable to overcome either a lapse in good judgment or an inability to count to "two" while black bear hunting in Alaska in 2009 ( the $10,000 fine he paid was probably only half of what it has cost him in losing a U.S. Army gig at Ft. Knox at the time). But love him or loathe him, there is no denying that it's truly remarkable…even admirable…that after more than fifty years, Ted Nugent is not only " workin' hard and playin' hard", but working at all.
In the Seventies with the triple shot of Ted Nugent, Free for All , and Cat Scratch Fever  fired off in rapid succession, Ted Nugent was FUN because he was harmless, just like Alice Cooper. It was when their respective stage acts broke through that invisible third plane barrier at the lip of the stage and entered real life that it became an issue for both. It almost destroyed Cooper's health; it only practically destroyed Nugent's music career. – Redbeard
https://www.inthestudio.net/wp-content/uploads/2020/12/TED-NUGENT-Free4All-59GgpeUx7HFnN8YC525omn-1200-80-e1637966383849.jpg
360
640
Red Beard
https://www.inthestudio.net/wp-content/uploads/2017/01/ITS-COLOR-white-studio.png
Red Beard
2021-11-28 18:00:37
2023-11-27 13:37:27
Ted Nugent- Free for All